Lenovo ThinkPad X270 Price in Malaysia
(4)
The Lenovo ThinkPad X270 is powered by a core i5 and has a 16 GB GB of RAM. This is one of the best core i5 laptops under 5,000 RM in Malaysia. The laptop comes with a 12.5 Inch of screen size, one of the best 12.5 Inch laptops you can buy in Malaysia. Besides, the Lenovo ThinkPad X270 is one among the best battery life laptops under the price range of under 5,000 RM. You can buy Lenovo ThinkPad X270 online and get shipped anywhere in Malaysia including the major cities like Kuala Lumpur, George Town, Kota Kinabalu, Malacca City, etc.
Compare Lenovo ThinkPad X270 Price
Lenovo ThinkPad X270 price in Malaysia is latest updated on January, 2019 and is available at the lowest price rate of 3,199 RM from LAZADA. As far as storage capacity is concerned, the device comes with a 1 TB of storage capacity. Besides, the laptop has a striking black color and comes with intel core i7 of Graphics.
highlights
✅ Processor : core i5
✅ Screen Size : 12.5 Inch
✅ Total RAM : 16 GB
✅ Operating System : Windows 10 pro
✅ HDD : 1 TB
✅ SSD : 256 GB
Lenovo ThinkPad X270 Price Comparison
Specification and features of Lenovo ThinkPad X270
| | |
| --- | --- |
| Brand Name | Lenovo ThinkPad |
| Partcode | DMS-LNV-X270-I5-7300U |
Speakers present
Built-in Speakers available
Bluetooth Option
Yes available
| | |
| --- | --- |
| CPU Brand | Intel |
| CPU Variant | 2.60GHz Speed |
| | |
| --- | --- |
| Screen Size (in inches) | 12.5'' inches |
| | |
| --- | --- |
| Inbuilt Microphone | Yes present |
| USB Port Option | 2 USB ports available |
| HDMI Port Option | Yes present |
View More
Lenovo ThinkPad X270 Details
Overview
The features of Lenovo ThinkPad X270 are:
Processor : core i5
Screen Size : 12.5 Inch
Total RAM : 16 GB
Operating System : Windows 10 pro
HDD : 1 TB
SSD : 256 GB
Processor and RAM
The brain of any system is its processor. Lenovo ThinkPad X270 comes with core i5 which is a well adaptable and used processor across Laptops.
It is being one of the excelling product line of lenovo. Being widely popular and in use across industry, almost all Operating Systems are compatible with this processor. Which means in case you wish to change OS to some uncommon OS then it wont be a difficulty.
Apart from processor being brain of a Laptop , the heart is its RAM. Which happens to be 16 GB. The synergy of processor and RAM has to be in harmony and needs to be well proportioned to provide optimized potential. In this Laptop the blend is well suited for all the daily jobs. In case one needs to go for high computing jobs or workloads then RAM can be upgraded as per the upgrade possible.
Storage & OS
Next comes is the Storage capacity that matters in any Laptop. This seams to be comparatively ok for conventional working. In case one needs more capacity then external HDDs can be used. When it comes to Operating System (OS), it comes with Windows 10 pro. Since it comes pre-installed OS which gives a peace of mind that you can be guaranteed of all the latest updates , patches and bug fixes. All you have to do is keep applying them once they pop up on your system.
Display & Ports
Display is very substantial and intrinsic part of any Laptop affair. This can make or break the absolute experience. In our perspective it acts like a face to a body. No matter how much advance processor you may have or how much costlier RAM you get in your Laptop , if the display is not good then the total applicability goes down. The display of Lenovo ThinkPad X270 is hd. This is tolerable for all your daily needs including office work and entertainment.
Number of Ports are also crucial as these magnify the power of a Laptop. Important ones are USB ports to attach things like external mouse , pen drive , External HDD etc. HDMI port is also convenient these days as most of the projectors use this port to get their input. In case you require to connect your system to an LED TV or any smart TV then HDMI port is well required. The number of ports offered are
Audio
As they say Music is a must to Life. This piece comes with built-in speakers. It is well enhanced to keep you going along with your work. Either plug in the headphones to the 3 mm jack or use the speakers. Though you cant envisage to run a dance using the inbuilt speakers , but can unquestionably appreciate in person.
Experts Review
The alliance of core i5 with 16 GB and other host of qualities is a good pick. Combined with a good after sales service being provided by lenovo and at a price point of RM 3,199.00 it irrefutably makes into the cut of considerations list. All you need to do is keep the OS at a latest version with all the upgrades and patches being applied.
Compare with Competitors
FILTER COMPETITORS BY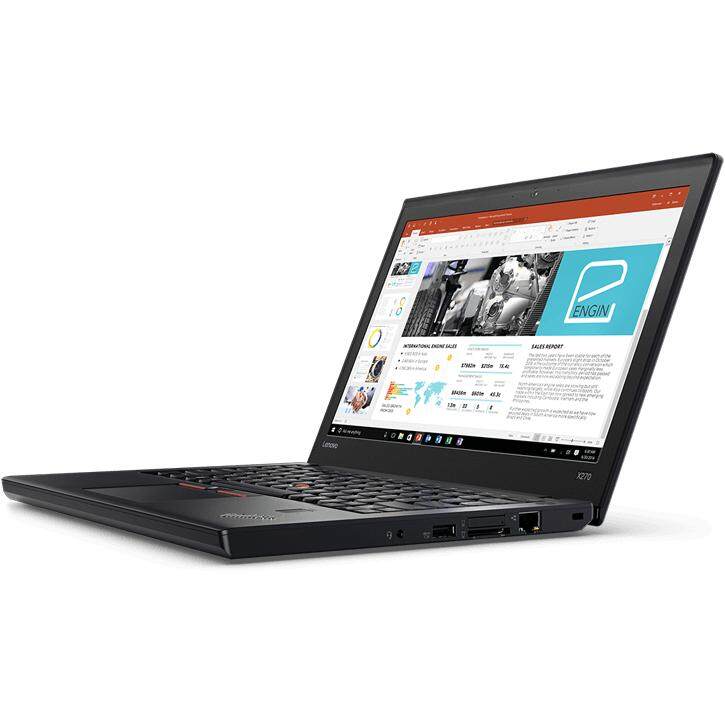 Lenovo ThinkPad X270
Starting From
RM 3,199.00
✅ Processor : core i5
✅ Screen Size : 12.5 Inch
✅ Total RAM : 16 GB
✅ Operating System : Windows 10 pro
✅ HDD : 1 TB
✅ SSD : 256 GB
✅
See specs
Top Deals on Accessories
VIEW ALL Laptops ›
Lenovo T560

Total RAM : 8 GB / Operating System : Windows 7

RM 586.95

Lenovo Z50

Screen Size : 15.6 Inch / Total RAM : 4 GB

RM 2,050.00

Lenovo Yoga 710

Total RAM : 4 GB / Operating System : Windows 10

RM 2,411.28

Lenovo Yoga 3

Total RAM : 8 GB / Operating System : Windows 8

RM 1,950.00
Get Discounts , Latest Deals !
Grab the deal before its gone, Stay informed !!!
❌